Lets face it..trading for Melky Cabrera and Angel Pagan is not going to turn the 29th best offense into the middle of the pack offense needed to make it back to the playoffs.
This is not a posting about how Sabean could have more efficiently allocated resources over the winter to improve the offense. Forget for a minute that Sabean himself may be a major reason that the Giants have only featured an above average MLB offense in one year since the departure of the great Barry Bonds (2010).
Don't get me wrong, ATT Park is the most aesthetic ballpark in the big leagues. However, it was built as a pitchers park in another era. Yes the Big Man (Barry that is) could hit the ball out over the 421 mark on a 63 degree night. Sadly though, that era of Giants baseball is over. League wide offensive output has been steadily declining for several years. Players are not hitting the ball as far as they were in 2001 and thats a fact.
What was once a pitchers park is now a factor that completely distorts how you can build a team. Because ATT park is so pitcher friendly, no elite free agent hitter will ever sign with San Francisco. Beyond that, any mid-grade talent will demand a premium in order to see their offensive numbers reduced.
This fact has caused management to act ineptly and overpay for offense, signing the likes of Aaron Rowand (5 years $60m), Aubrey Huff, Edgardo Alfonzo, and others that I have since erased from my memory to deals that simply do not work out.
You might say, "Yes, but the Giant's success is built around pitching." While this is true; however, consider this: if the Giants staff is truly superior, then they will benefit more from a smaller ballpark where there is less room for an inferior pitcher to make mistakes. It's like taking a class graded on a harsher curve, the challenge of pitching in a smaller park forces more separation between the best and the average all things equal.
I am not advocating turning ATT into a hitters park. It will never be a hitters park, because the summertime temperature in San Francisco is lower than any other major city in the contiguous lower 48 states. The summer fog or "marine layer" and prevailing wind that wraps around the grandstand and pours back towards right field knocks HRs into outs would not allow this ballpark to be hitter friendly even if it had the dimensions of the Rangers Ballpark at Arlington.
It is evident that playing in such a large ballpark has a profound psychological impact on all the hitters in the lineup. When you hit the ball 400 feet and then you have to trot back into the dugout and watch your average go down it affects your psyche and mental approach to the game. The impact of moving into the large Citi field from Shea stadium was well documented on the likes of David Wright whose home runs initially plummeted from 33 to 10 in his first year before rising in his second. He had to change his swing leading to more strikeouts and a lower batting average in order to maintain power production.
(Above image is Aubrey Huff's slightly exaggerated 2011 spray chart)
Take franchise offensive cornerstone Buster Posey for example. Posey's natural approach is to the opposite field. That approach simply does not work at ATT. There are typically 5 or fewer home runs hit by right handed batters to right field per year at ATT park. This is reflected in Posey's career .246 batting average at home compared to .334 on the road. He has 15 career road home runs versus 7 at home. Yes those numbers would likely regress some as he got a few more years of at bats on his baseball card but the trend is obvious. He would be a better hitter in a smaller ballpark.
Who is to say that Pablo, Posey, and Belt couldn't all be regular 30+ home run hitters in a "fair" ballpark? Additionally, the Giants would not have to consistently overpay for offense or field a bad offensive club.
You might say, "signing pitching should be easy because of the ballpark." Yet again the answer is no. MLB players focus on two things when signing contracts: 1. Money, 2. Career Legacy/Winning
While Matt Cain and Tim Lincecum would have marginally higher ERA's pitching in a neutral ballpark instead of ATT, they would also have more wins because the team would not be so fundamentally unbalanced lacking hitting talent and overloaded with pitching talent. Truth is that pitchers are still measured in the conventional media by wins and losses, so the advantage of the ballpark in terms of negotiating better contractual terms with Cain and Lincecum is minimal.
Yes, I admit, they won the 2010 World Series in ATT. However, that was a team which featured unusual and unrepeatable contributions from scrap heap players like Aubrey Huff, Pat the Bat, and Andres Torres. Those were players who couldn't sign somewhere with a smaller ballpark so they signed with SF. It is not a repeatable strategy. A team with the Giants financial resources should be focused on wining divisions year in and year out, something they have not been able to do since Bonds was in his prime.
Sandy Alderson of the Mets was smart enough to recognize that a huge ballpark which distorts how the game is played is not only more of a disadvantage to the home team in terms of on field performance and allocation of payroll, but also produces a less exciting game for fans who can't all appreciate the 2-1 game. Heck, I love the home run ball.
Here is what the Mets did with Citi Field: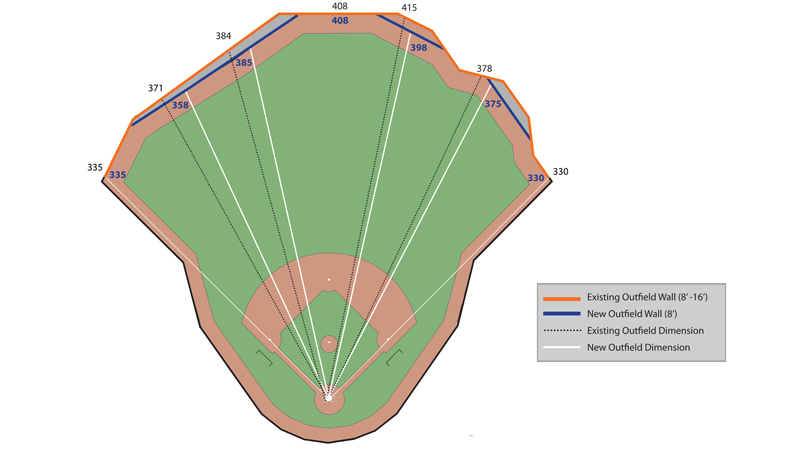 So now to the practicality adjusting ATT:
The center field fence could easily be moved in to where the warning track starts. This fence is moved all the time for various events and cost would be minimal. Similarly, the same material that composes the center field fence could simply be extended across "triples alley." Put some seats back there, or build a grassy noll. I don't care. That gap should be 385 feet. That will still play pitcher friendly during night games and will be slightly hitter friendly on warm days. The left center gap should be about the same. The Mets and Tigers both tackled moving in the left field fences in their respective ballparks and the same could be done in SF in a cost effective way. Who knows, maybe you add a few seats that could pay for another left handed reliever to complement Affelt and Lopez. As far as the Willy Mays Wall, a yellow line could be painted across it starting about halfway between the gap and the foul post, similar to the line that exists on the large left field wall in Houston. Bottom line is that these minor changes could be done cheaply and without negatively impacting the quality of baseball at ATT park.
(While the above example is the left field wall in Houston, it demonstrates the concept of having a line on a wall; If the ball hits above the line its a home run and below its in play).
The benefits of making these subtle alterations would range from a more balanced team, happier hitters, more exciting baseball, and a renewed desire for hitters to come to San Francisco.
The only reason not to do it is that Larry Baer's feelings might get hurt.
http://www.nytimes.com/2011/11/01/sports/baseball/mets-to-alter-dimensions-of-citi-field.html?fta=y